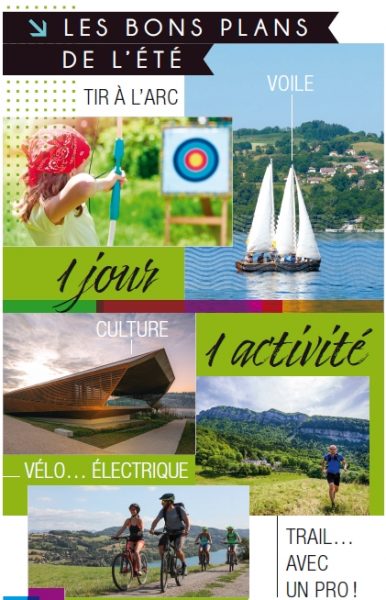 As every year in July and August, we offer activities to occupy every day of the week! From an electrically assisted bicycle, to a whaleboat ride, an archery discovery session, trail running or cultural outings…. You choose !
Want to move every day of the week? the Monday it is archery, tuesday and thursday exit in electric bicycle, Wednesday it is sailboat ride and Friday it's session discovery of the trail.
And for those who prefer to start the weekend with a bit of art, a bit of history, a hint of archaeology, you will find the perfect recipe to whet your curiosity during the cultural outings of the Friday !
The Tourist Office team would like to thank the partners involved in this process:
– George d'Arc Plaisir thanks to whom you will find in you a little bit of your archery hero or heroine (Robin Hood, Katniss Everdeen, Legolas, Green Arrow….),
– the teams of the Yacht Club Grenoble Charavines for the pleasure of sailing and discovering the soul of a sailor (Eric Tabarly, Florence Arthaud, Olivier de Kersauson, Isabelle Autissier…),
– Natura Vélo bike instructors to share the passion for cycling, the pleasure of simply riding thanks to the arrival of electric assistance which makes it accessible to all. We will think of the passion of the most famous cycling champions (Poulidor, Jeannie Longo…),
– David Deguelle, mountain guide, to try trail running and awaken the runner in you,
– the teams of the Pays Voironnais cultural heritage service working for an ever more attractive and varied programme.