There are many here who produce, transform, shape and manufacture products that can be eaten… or not! From this summer, find a selection of local products in the "shop" areas of our 2 reception offices in Voiron and Lac de Paladru.
When we visit a region, a territory, we discover its riches and its know-how, we create beautiful memories. What could be nicer than bringing a little piece home! And it's easy, because you will find in our premises a varied selection 😉
A gourmet shop… but not only!
Beers, biscuits, jams, terrines, walnut oil… But also bath towels, tote bags, cushions… And they are all made in the Pays Voironnais of course! In short, beautiful products to taste during your stay or to put in your suitcase….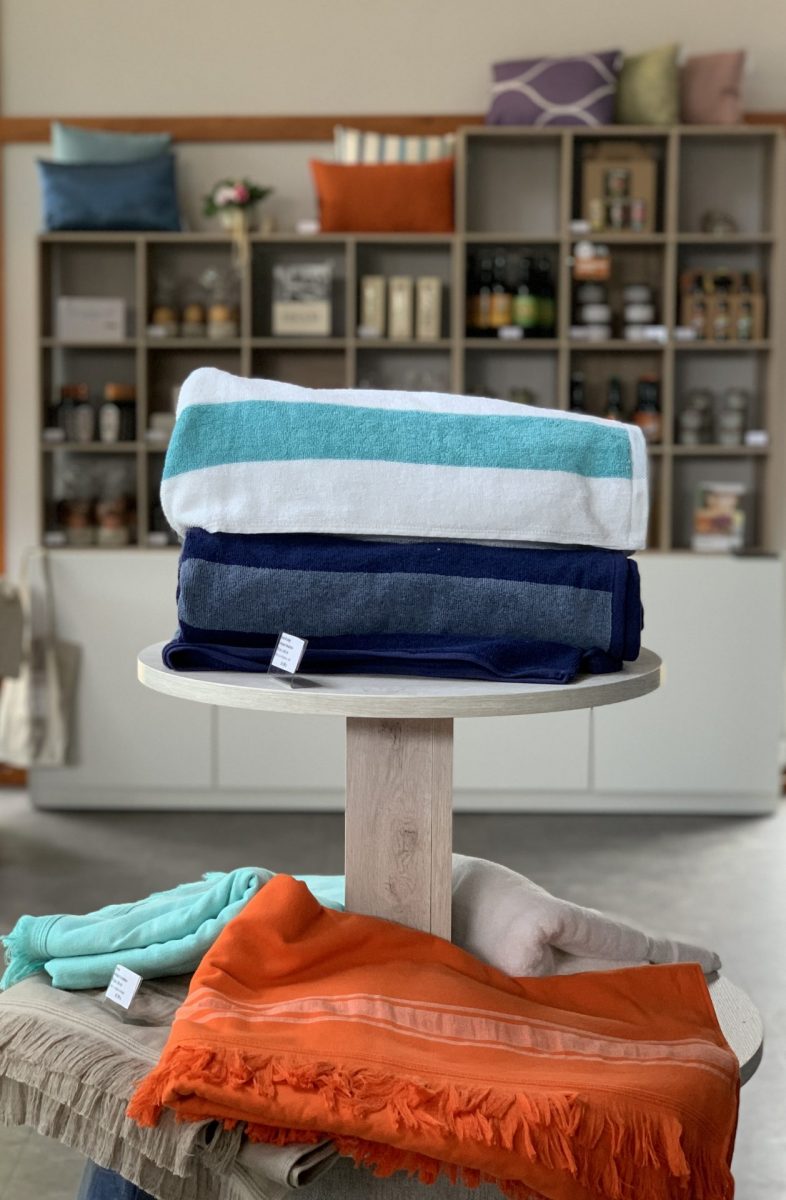 Not to mention some bookstore items that were already on sale
Postcards and books, maps and books for hiking… And a novelty that will arrive soon, but shhh we keep the surprise!
Come and see, it's here:
To see
Or
Open
Pays Voironnais Tourist Office, Voiron Reception Office
30 courses Becquart-Castelbon
38500 Voiron

+ 04 76 93 17 60
Calculate my route
Opening hours
Open all year round from Tuesday to Saturday from 9 a.m. to 12 p.m. and from 30 p.m. to 14 p.m.

Closed on public holidays (Christmas, Easter Monday, Ascension Thursday, Whit Monday, May 1, May 8, July 14 and August 15.)
Closed Thursday mornings from October to the end of March.
In Charavines
Or
Pays Voironnais tourist office, Lac de Paladru reception office
230 rue des Bains
38850 Charavines

+ 04 76 93 17 60
Calculate my route
Opening time
From February 1 to March 31 and from October 1 to November 30
Open Monday, Tuesday, Wednesday and Friday from 9 a.m. to 12 p.m. and from 14 p.m. to 17 p.m. Thursday from 14 p.m. to 17 p.m.
Closed Thursday mornings and Saturdays and Sundays.

From April 1 to September 30
Open every day from 9 a.m. to 12:30 p.m. and from 14:30 p.m. to 18 p.m.

Closed in December and January.
To learn more about these products from here, we invite you to consult the pages below. During your visit, don't hesitate to ask the travel advisors for advice 😀