A look back at two artists who exhibited: Michel Gardel and François Germain.
François Germain exhibition
Originally from Lyon, François Germain now resides in Voiron. Its desire is to "take a new look at our technological environment". The artist describes himself as a "techno-sculptor": working with composite materials, beyond their functionality and out of their primary context; take up space with a minimum of curvilinear material, with the aim of stimulating the imaginations. Tomorrow is a good example: inspired by the Sagrada Familia, the installation made of textile structures represents a "cathedral of canvases" exalting elevation, light as an idea, organized around a central vanishing point. The play of openings and undulations will reveal the structure of the barn, without letting it take over: this is "the omnipresent frame" confronted with immersive work in situ.
Fantasized evocation of Gaudi's Sagrada Familia, textile architecture 15m high, 22m wide, 12m deep, made of 600 m² of lycra, "Tomorrow" is a secular cathedral whose symbolism exalts a simple spirituality.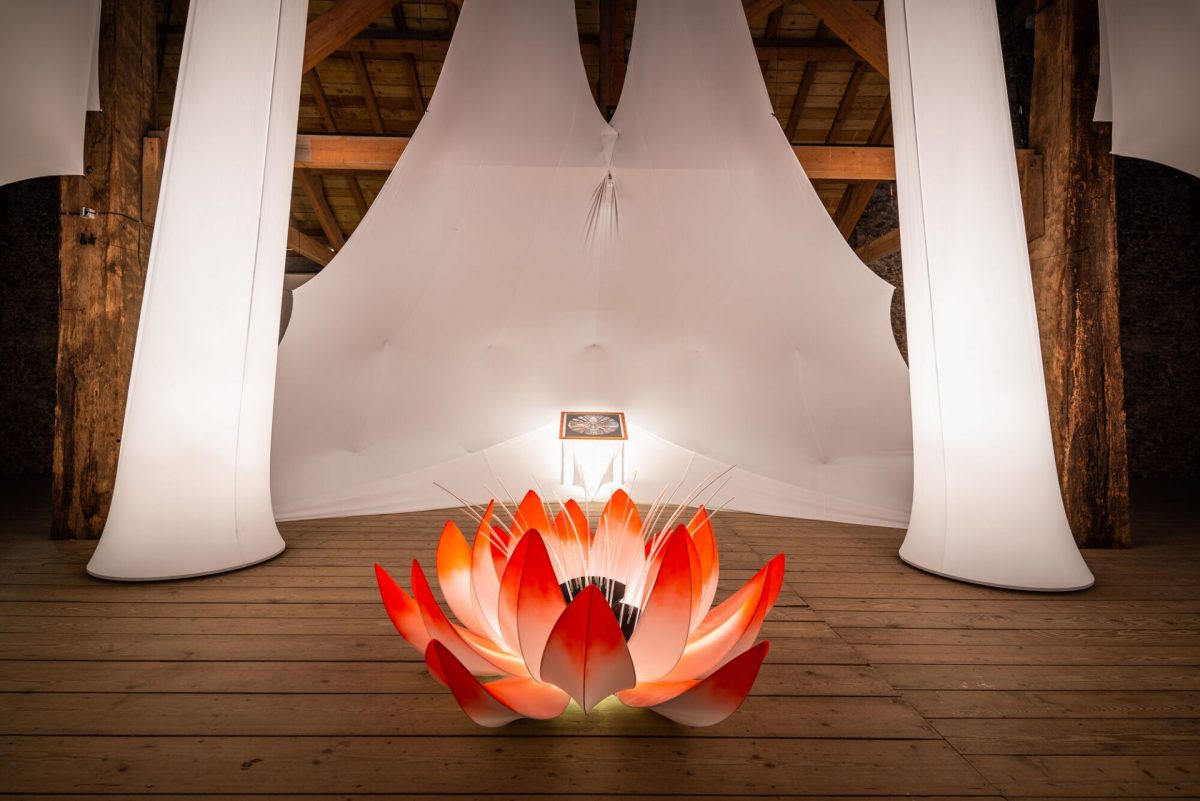 Ceramic exhibition by Michel Gardelle
A traveler at heart, Michel Gardelle invests in the monumental architecture of the Grange Dîmière with his colorful and free-form canvases and ceramics. An invitation to write a new story in this old dependency of the Carthusian monks.
Discover the retrospective in video:
After growing up and studying fine arts in Paris, Michel Gardelle began to travel through Europe and Africa. If he decides to settle in the Landes, his desire to discover the world and to meet other peoples, cultures and landscapes continues to punctuate his life as an artist.

With numerous personal and group exhibitions in Europe in particular, Michel Gardelle recognizes his art as a nomad, by his influences but also by his interest in "history, tales, tales, fables and legends, gossip yes or no. said, rumors "which mark time and space, witnesses of the cultures of men and of the world.

A building like the Grange Dîmière is for Michel Gardelle the opportunity to make the link between a "monumental architecture" and the "noble materials" used by the contemporary artists who choose the Grange. A strong, old place that has stood the test of time and lends itself to the game of life:
"Time passes, inexorably, perpetually, and, if you don't write it down to fix it, your memory flies into eternal nothingness. Words in books, on walls, old trunks of hundred-year-old trees or even clay slabs, are witnesses of a fleeting time. […] They give themselves up to passing eyes and thus live beyond the fleeting epochs of time. Boundaries of passing time. "

Michel Gardelle's work is based on a reflection that follows time and nature, which is inscribed both in past and current memory; in his turn, he wishes to leave a mark in the history of the Barn, and that this history permeates his works ... Which will then be appropriated by visitors. "The limits of passing time" is the best way to testify to an ephemeral and lasting relationship.