This year again, the bicycle festival will meet you on Saturday September 30, 2023 at Lake Paladru! The opportunity to enjoy the lake tour and numerous activities! A special day to travel peacefully around the lake: by bike, balance bike, rollerblades, scooter or even on foot, it's up to you 🙂
The day by bicycle at Lake Paladru
This event brings together all the ingredients for a pleasant day, all that remains is to hope that the sun is there! Indeed, in addition to the remarkable nature of the closure of traffic to cars on the left bank, it is an opportunity to enjoy numerous activities.
A day without cars…
… or almost 😉 To better understand, here is the traffic plan in effect from 9 a.m. to 17 p.m. during the event.
A 100% secure tour of the lake:
- the greenway on the right bank (green line on the image), between Charavines and Paladru on the Bilieu side, offers a secure path. Motorized vehicles and bicycles rub shoulders but never on the same path 🙂
- there left bank is closed to traffic (red trace on the image) between Charavines and Paladru. Note, some blue areas with alternating traffic.
To take full advantage of the event, go to the car parks in Charavines or Paladru.
The animations
Enrich your day by discovering numerous sports and activities.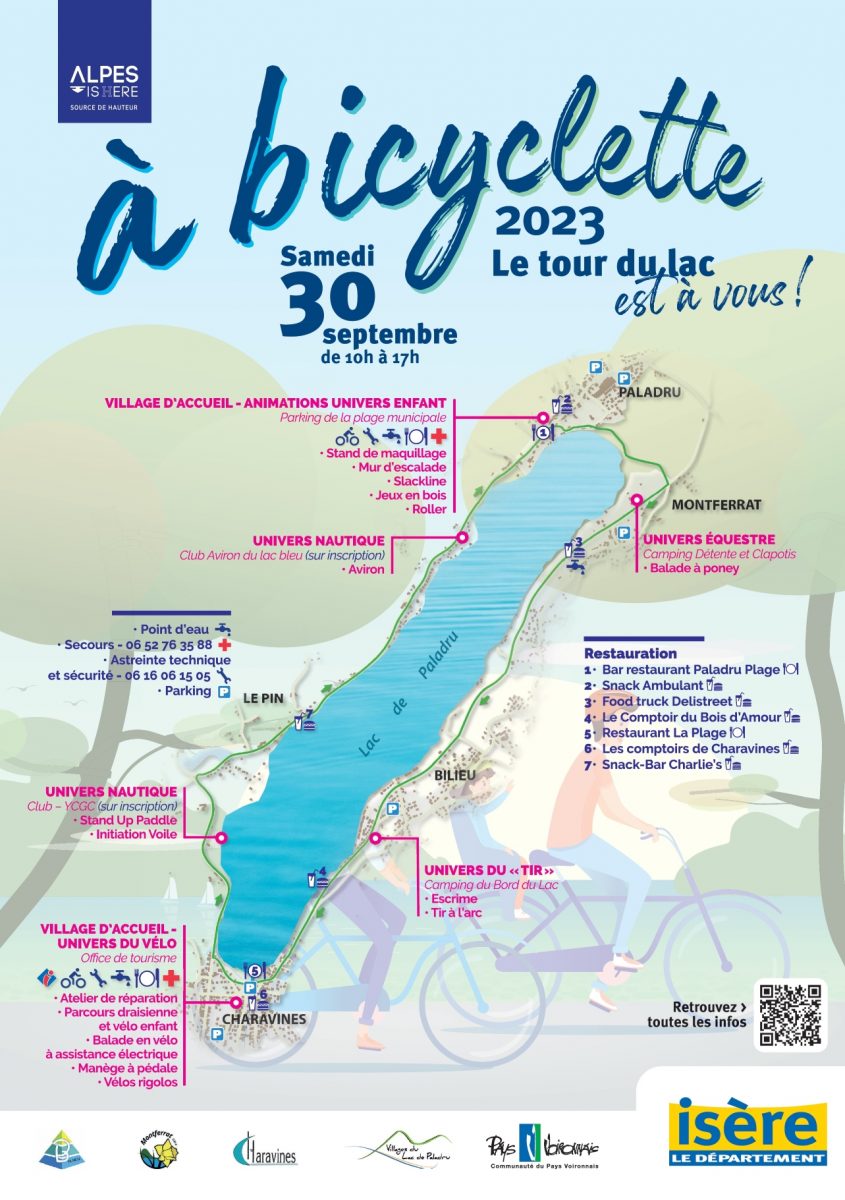 You are by the lake so of course there are the essentials nautical activities : rowing, sailing and stand up paddle (limited places upon registration). But also around the bike : accompanied ride on an electrically assisted bike (limited places upon registration), repair workshops, bike riding course, fun bikes. And again, lots of other proposals likeinitiation to climbing, slackline, Rollerball, archery or againfencing, wooden games, pony ride and a stand make-up…. Don't hesitate to come with your family!
Activities upon registration:
Activities around cycling:
Sports initiations:
Activities for the little ones:
Finally, don't hesitate to stay around until Sunday 😉
Consult our list of accommodation around Paladru Lake and treat yourself to a quiet evening after this busy day! On Sunday, take the opportunity to explore our territory: the Archaeological Museum of Lake Paladru, theCosmogony exhibition at the Grange Dîmière, Mainssieux museum and Chartreuse cellars in Voiron… Or more freely on hiking, mountain biking or e-bike trails!